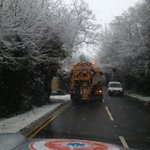 Kent has been experiencing extensive problems around the county last night with some major roads totally gridlocked (M2/A2, M20/A20, M25/A25, A21).
All of the county's gritters were out treating primary routes and all standby staff were assisting to clear roads and attending to the many incidents that were reported.
The heavy snow fall was accompanied by very strong winds causing drifting and we lost some routes last night as Kent's gritters were struggling to get through the congested traffic. This has had an major impact on our network causing additional traffic at peak time in some strategic areas.
All KCC Primary routes had large quantities of salt Monday evening and again yesterday morning and later again in the afternoon. Secondary routes were treated earlier Monday morning and again in the afternoon.
Additional gritters were patrolling Bluebell Hill and Detling Hill constantly.
Primary routes were continued to be patrolled as long as necessary throughout the night. All Kent's gritters were out with their snow ploughs attached and stayed out as long as necessary.
Can I thank our Highways teams for their commitment to keeping the county moving and for working in dangerous and treacherous conditions.